Finding hope behind close doors
In the video I speak about my experience, living in a country where patriarchy is still a thing. Where people with disabilities are not supported, not even given a chance to live their dreams. When I was one year old I was diagnosed with cancer. After six surgeries and one chemo treatment I survived, but lost my right eye. I have one final surgery to do which costs a fortune (50.000 €- facial surgery).
As a girl with special needs, I am bullied and discriminated against every day and most of my dreams got shattered, but I continued finding hope in closed doors, in lost dreams. I keep fighting and living my life like each day is my last.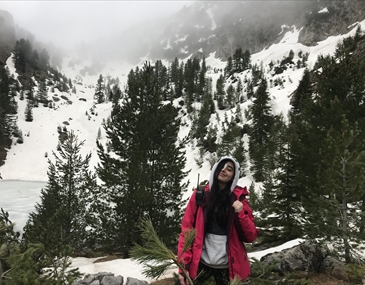 Name: Sofije
Age: 20
Country: Kosovo
"I am always saying that if you give them a pen and a notebook and teach them how to write, they will teach you how to put your words together and write about your life. My mom had a pen and a notebook but she couldn't pursue her dream and finish any kind of school. In Kosovo, not a lot of girl has this option. They were forced to act like "women", get married and have kids. They were treated like "human fabrics". My mom taught me that I have to focus in my education and help the others in achieving that too. I think girls need someone to support them, to tell them that they have everything to be someone they want to be. They need education first of all for achieving that, and education means support, if she has these two things she has everything to be empowered."